ABOUT DR. MONICA HALEM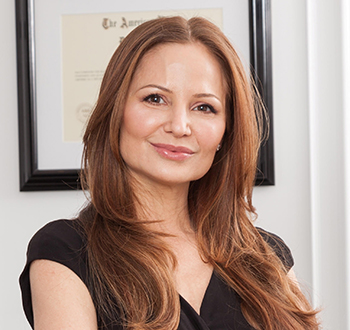 Dr. Monica Halem is the Founder and Medical Director of The New York Dermatologic Surgery Cosmetic Laser Center. Located on Fifth Avenue, across from the beautiful Metropolitan Museum of Art, Dr. Halem specializes in cosmetic dermatology, laser procedures medical and surgical dermatology. Her elegant, state-of-the-art office is the premier destination for personalized high quality cosmetic and surgical dermatologic treatments with natural looking results.
Dr. Halem believes that keeping patients "ahead of the aging curve" by both prevention and correction is the key to anti-aging. Educating patients on the "how and why" we age, and what latest non-invasive treatments are available is essential. To ensure treatment success, Dr. Halem offers only the most advanced, thoroughly tested, safe and efficacious procedures. Dr. Halem is also the founder of the popular Fifth Avenue Lift™. This revolutionary treatment is a comprehensive non-surgical face lift customized to address all aspects of the aging face and neck.
Dr. Halem has devoted a decade to clinical research, conducting trials that advanced the field of cosmetic and surgical dermatology. Through this ongoing research in dermatology, skin cancer therapy and non-invasive cosmetic procedures she has developed her own scientifically based exclusive skincare line. As an expert cosmetic injector with an eye for aesthetics, she is frequently called upon to train fellow physicians with her unique technique in injecting Botox™ and fillers. In addition to her private practice, Dr. Halem also serves as Clinical Assistant Professor of Dermatology at Mount Sinai School of Medicine where she teaches and mentors dermatology residents in dermatologic and cosmetic surgery. Her prior training as a general surgeon, and specializations in Mohs micrographic surgery, dermatologic cosmetic, and laser surgery, make her an expert on a broad range of medical and cosmetic dermatologic treatments and procedures.
The news and media often call upon Dr. Halem to report on treatments and advancements in dermatology. She has been featured on Entertainment Tonight, LX.TV, Fox News New York, CBS News, NBC News, NPR Radio, The Today Show, and the Meredith Vieira Show.
In her practice, Dr. Halem continually receives stellar reviews from patients for her compassionate care, her expert technique and for being the preferred choice of expert dermatologists in New York City.
Click to see Dr. Halem's Full Biography