RESTYLANE™
Restylane, Restylane-L and Restylane Silk are the only products FDA approved for lip enhancement in patients over 21 years, and are uniquely formulated to give your lips fullness and definition.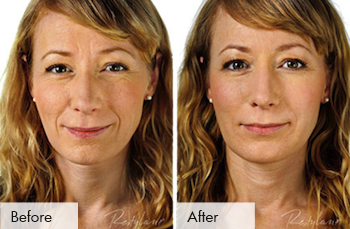 What is Restylane?
Restylane is a range of products for facial beauty treatment. They are designed to effectively reduce the appearance of unwanted wrinkles, contour and create volume, and to rejuvenate the skin. Restylane is a gel based on stabilized hyaluronic acid. Hyaluronic acid (HA) is a substance that naturally exists in your body. The gel is injected into the skin.
What are the benefits of Restylane?
A treatment with Restylane provides an easy way to stay in control of your looks. The result of a single treatment can be seen instantly and may last up to one year. With Restylane you will get a natural looking result that does not affect facial expressions. Your looks remain under your control.
Restylane is the most studied and documented HA based dermal filler in the world with comprehensive studies that support its safety and efficacy. Restylane has been used in over 20 million treatments worldwide since the launch in 1996.

Why should I choose Restylane?
It is safe. Restylane resembles the body's own hyaluronic acid, and is well tested in clinical studies.
It works. Restylane has long-lasting results, but is not permanent. It is clinically proven with extensive clinical documentation.
It is the most used. Restylane has been used in over 15 million treatments worldwide since the launch in 1996.
What areas can be treated?
Restylane products can be used to smooth away facial lines and wrinkles, create fuller lips and shape facial contours, such as cheeks and chin, and rejuvenate the skin.
The most common areas treated are:
nose to mouth lines (the nasolabial folds)
between the eyebrows (the glabella lines)
lips (adding volume and shape)
cheeks and chin (shaping and contouring)
back of the hands, décolletage, face, neck (skin rejuvenation)
How does Restylane work?
By replenishing the skin's supply of hyaluronic acid, Restylane rejuvenates and adds volume to the skin, instantly diminishing the appearance of lines and wrinkles, and giving a natural softer look. Restylane is a soft injectable gel consisting of stabilized, non-animal hyaluronic acid. The gel is tissue-friendly and closely resembles the hyaluronic acid that exists naturally in the body. It is long-lasting but not permanent.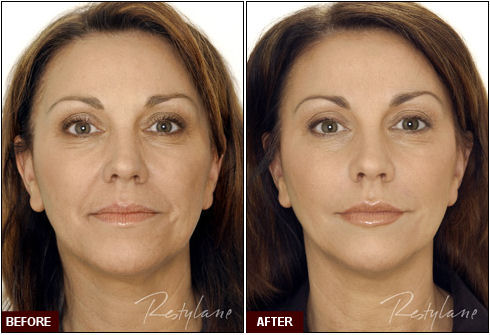 What does Restylane treatment involve?
Before
During consultation be prepared to discuss your individual wishes and expectations and receive recommendations of which Restylane treatment is most suitable for you. This will be based on what you wish to achieve, your features and individual life style factors.
After the consultation you will receive the appropriate treatment.
During
Restylane is injected into the skin in small amounts using a very fine needle. The gel provides natural volume to smooth away the appearance of lines and wrinkles, enhance facial shape, or create fuller lips. Restylane Vital products improve the elasticity and texture of skin, and restores and maintain the skin hydrobalance.
The treatment is quick, typically taking about 30 minutes. Treatment with Restylane does not affect facial expression and the benefits can normally be seen instantly.
After
Restylane products are biodegradable, which means they will naturally disappear in the body. A follow-up treatment is usually needed after 6 to 12 months depending on individual factors and area treated. Discuss with your practitioner when a follow-up might be needed.
After a treatment some reactions might occur. Most common is slight redness, swelling, itching, bruising, pain and tenderness. The reactions are generally mild to moderate and usually disappear shortly after injection. They usually resolve spontaneously within one or two days after injection, but for some treatments they may last longer.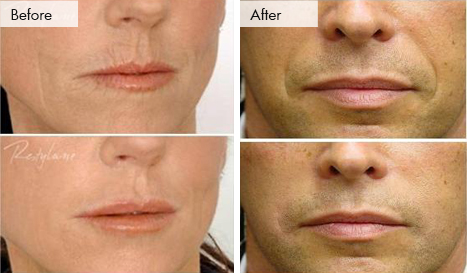 How long does a Restylane treatment last?
One of the great advantages of Restylane is that the effects are long lasting but not permanent. Duration depends on many factors, such as the individual's skin type, lifestyle and age. After the initial treatment, follow-up sessions are normally recommended around every 6 to 12 months depending on the individual and the treatment. A treatment of the lips lasts about 6 months.
Can everybody use Restylane?
Most people can benefit from Restylane treatment. If you want to reduce lines and wrinkles or create more defined or fuller lips, Restylane can help. Also if you want to define the contours of your face, such as chin or cheek, or rejuvenate the skin in your face, on your hands, neck or décolletage, Restylane is a good option for you.
Restylane should not be used in or near areas where there is or has been skin disease, inflammation or related conditions. Restylane has not been tested in pregnant or breast-feeding women. Individuals with medical conditions that lower the body's immune response or individuals undergoing therapy that is immunosuppressive may be more prone to infection by a skin injection procedure.
During your pre-treatment consultation, you should thoroughly discuss your medical history with Dr. Halem.
Can Restylane be used if I have had laser treatment or a chemical peel?
If you have recently had a laser or chemical peel treatment, it is recommended you wait until the area is totally healed and the skin is back to its normal condition.
Restylane-L: Feel the difference with less discomfort
Like Restylane, Restylane-L can also be used to add volume and fullness to the skin to correct moderate to severe facial wrinkles and folds, such as the lines from your nose to the corners of your mouth (nasolabial folds). But, by combining lidocaine with Restylane, Restylane-L can help reduce discomfort during and after treatment.
A HISTORY OF BEAUTIFUL RESULTS
Restylane injectable gel is the world's most studied wrinkle filler with more than a decade of use. Restylane has been used in more than 15 million treatments in more than 65 countries worldwide.* Products in the Restylane family have well-defined safety profiles and are approved for the treatment of moderate to severe facial wrinkles and folds, such as the lines from your nose to the corners of your mouth (nasolabial folds).
WHO SHOULD NOT — USE RESTYLANE AND PERLANE?
The Restylane family of products should not be used by people who:
are pregnant, breastfeeding, or under 18 years for nasolabial folds and under 22 years for lips (Restylane, Restylane-L and Restylane Silk only).
have recently used drugs that thin the blood or prevent clotting
have had previous bad allergies, particularly to microorganisms known as gram-positive bacteria
have serious allergies to drugs that have previously required in-hospital treatment
have bleeding disorders
have a known allergy to lidocaine, if using Restylane-L, Restylane Silk, or Perlane-L