Earlobe Repair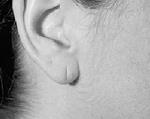 Dr. Monica Halem is a Board Certified Dermatologist specializing in aesthetic cosmetic surgery. Among many cosmetic procedures she offers in her upscale New York City, Manhattan office, her technique in torn earlobe repair is painless and can be quickly done with no downtime.
Earlobe repair surgery is usually performed to correct torn, enlarged earlobe holes or damaged earlobes usually caused by repeated use of heavy or large earrings. If you are experiencing any of these defects and are considering torn earlobe surgery please read below for more information on Dr. Halem's procedure.
How is the Earlobe Surgery performed?
Earlobe repair can be performed immediately after an injury has occurred or after the wound has completely healed. A variety of different techniques can be performed during surgery to correct the torn or enlarged hole in the earlobe to reshape the ear to match your natural original ear shape. This procedure is performed at Dr. Halem's office with local anesthetic.
Is the procedure painful?
After your procedure most patients don't need any pain medication. Dr. Halem may prescribe something for pain but usually over-the-counter medication is all that is needed, if necessary.
Will I have a huge dressing on my ear?
In most cases, the only dressing needed is a thin layer of antibiotic ointment and band-aid. The stitches are usually removed in one week. Dr. Halem will advise you of the post-procedure care instructions.
What are the risks of surgery?
As with any surgery, make sure you choose a qualified, experienced surgeon. The complications associated with earlobe surgery are infrequent and usually minor. Nevertheless, as with any procedure, there risks associated with torn earlobe repair is the risk of infection. If such infections occurs it is usually treated with antibiotics.
How do I schedule the procedure?
Dr. Halem and her staff will be happy to discuss torn earlobe repair with you. Please call office to schedule a consultation or schedule an appointment online.